ZOOM MAGNIFICATION
COLPOSCOPE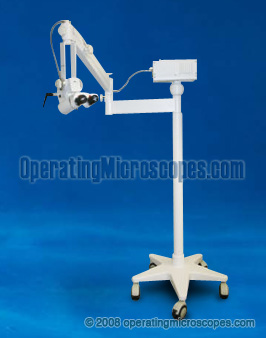 s/h:
Shipping cost to be determined based on destination and shipping method.
USA

(Food and Drug Administration) Registered Manufacturing Facility.
Colposcopy device.
Colposcope Made in USA by:
Seiler Instrument & Manufacturing Company, Inc.
Factory location, St. Louis, Missouri, USA.
Optics imported from Germany
Specifications:
Includes the following:
Smooth continuous zoom magnification
300mm working distance objective lens offering 2x – 15x magnifications.
Optional magnifications/objective lens combinations are available.
Widefield 12.5x eyepieces with diopter locks and fold-down rubber eyecups for eyeglass wearers.
Straight binocular head f=160.
Fan cooled, **dual-port variable fiber optic coaxial illumination with 15V 150W lamp (bulb EFR 64634)
**should a lamp fail during an examination, the dual-port feature allows a quick change from one lamp to another resulting in an uninterrupted procedure.
Maximum height from floor to objective lens – 54 inches.
Minimum height – 32 inches
Overall distance from the column to the objective lens – 33 inches.
Green filter with selector knob.
Spare lamp, dust cover and instruction manual.
Buy Now!!!
Call toll-free:

or email