3-STEP MAGNIFICATION
COLPOSCOPE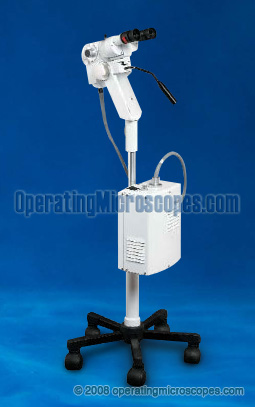 s/h:
Shipping cost to be determined based on destination and shipping method.
USA

(Food and Drug Administration) Registered Manufacturing Facility.
Colposcopy device.
Colposcope Made in USA by:
Seiler Instrument & Manufacturing Company, Inc.
Factory location, St. Louis, Missouri, USA.
Optics imported from Germany
Specifications:
Includes the following:
Smooth three-step turret magnification changer.
300mm working distance objective lens offering 3x, 7x, and 17x magnifications. Optional magnifications/objective lens combinations are available.
Widefield 12.5x eyepieces with diopter locks and fold-down rubber eyecups for eyeglass wearers.
Straight binocular head f=160.
Fan cooled, **dual-port variable fiber optic coaxial illumination with 15V 150W lamp (bulb EFR 64634).
**should a lamp fail during an examination, the dual-port feature allows a quick change from one lamp to another resulting in an uninterrupted procedure.
Maximum height from floor to objective lens – 46 inches.
Minimum height – 34 inches.
Green filter in selector knob.
Small diameter base on roller castors with adjustable vertical post height.
Spare lamp, dust cover and instruction manual.
Video accessories available (see accessory page).
Buy Now!!!
Call toll-free:

or email