GENERAL SURGERY
SURGICAL OPERATING MICROSCOPE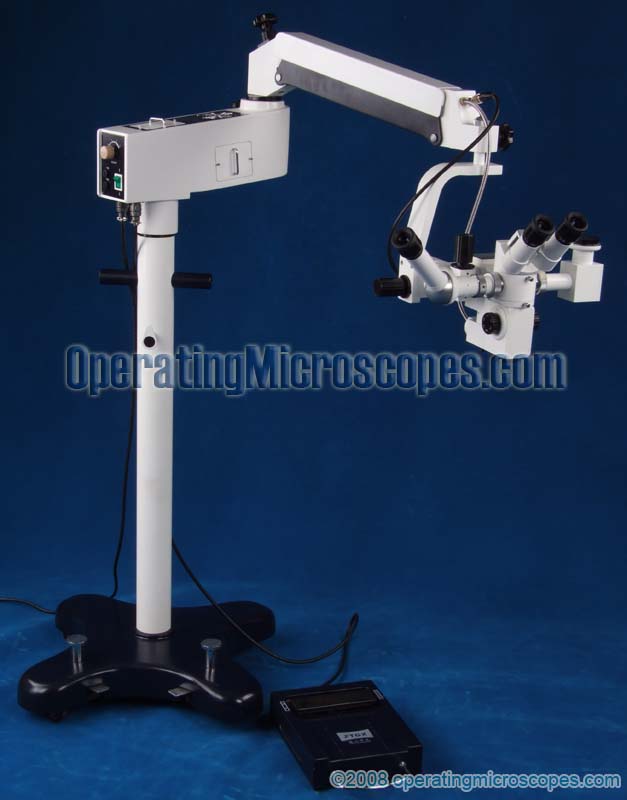 s/h:
Shipping cost to be determined based on destination and shipping method.
Non-FDA registered manufacturing facility. If you need FDA, we can provide other equipment that is FDA.
Specifications:
This model of operating microscope is used for a variety of microsurgical applications and is considered a multifunctional unit.

One nice feature of this surgical microscope is the motorization of the focusing with the controls on the foot pad.

It features a single binocular master surgeon's head as well as a monocular head for an assistant surgeon. This allows for two surgeons to simultaneously view the operating procedure.

The main head has a five level magnification. The bottom objective lens is f200mm.

An optional c-mount can be installed for connection to a ccd camera. This allows video microscopy of the surgical procedure so all medical personnel in the room can observe. The c-mount, CCD camera, CCTV monitor, and video cable are all options, not included in the basic surgical operating microscope package.

The microscope has a feature allowing fast changeover to new bulb during surgery if the bulb blows. The illumination system consists of a cold light source with fiber optics and is coaxial to the optics. This surgical operating microscope is NOT made in a US FDA (Food and Drug Administration) registered manufacturing facility, but DOES have CE certification.
Buy Now!!!
Call toll-free:

or email