OPHTHALMIC - OPHTHALMOLOGY
EYE SURGERY
SURGICAL OPERATING MICROSCOPE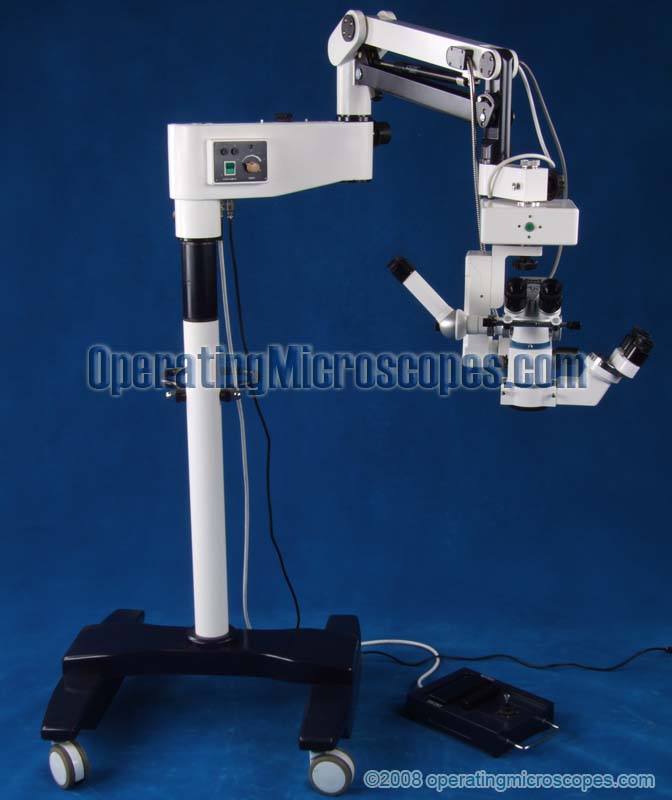 s/h:
Shipping cost to be determined based on destination and shipping method.
Non-FDA registered manufacturing facility. If you need FDA, we can provide other equipment that is FDA.
Specifications:
This model of operating microscope is primarily used for ophthalmic eye surgery in the medical field of ophthalmology. This surgical microscope features foot controlled motorization of the focusing and the centering of the head. There are additional motorized controls for the bending and lifting of the head assembly.

Another of the motorized functions locates the specimen in the viewing optics by moving the whole head assembly on an X - Y grid (40mm x 40mm maximum). This motor centers the specimen in the field of view. Other motors control the bending and lifting of the microscope arm and head.

The main head is binocular. There are two assistant (also called teaching) heads, one is binocular and one is monocular. The assistant's binocular head and the monocular assistant head both have a 6x magnification. The binocular assistant head is able to rotate 180 degrees to the desired location where the assistant will sit. This allows three medical personnel to view the surgery simultaneously.

The surgeon's binocular head has a five step magnification of 3.4x, 5.4x, 8.5x, 13.5x, and 21x using the included bottom objective lens. It does not have zoom optics.

Another option is a beam splitter, ccd camera adapter, and ccd camera for taking the video image to a cctv monitor for all in the room to see, or for the surgery to be videotaped. But to install these options, the monocular assistant head must be removed.

The illumination system is equipped with a retina protection device, red reflex intensifier, and infrared filter.

The microscope has a feature allowing fast changeover to new bulb during surgery if the bulb blows. The illumination system consists of a cold light source with fiber optics and is coaxial to the optics. It has a variable intensity control. This surgical operating microscope is NOT made in a US FDA (Food and Drug Administration) registered manufacturing facility, but DOES have CE certification.
Buy Now!!!
Call toll-free:

or email