GENERAL SURGERY
SURGICAL OPERATING MICROSCOPE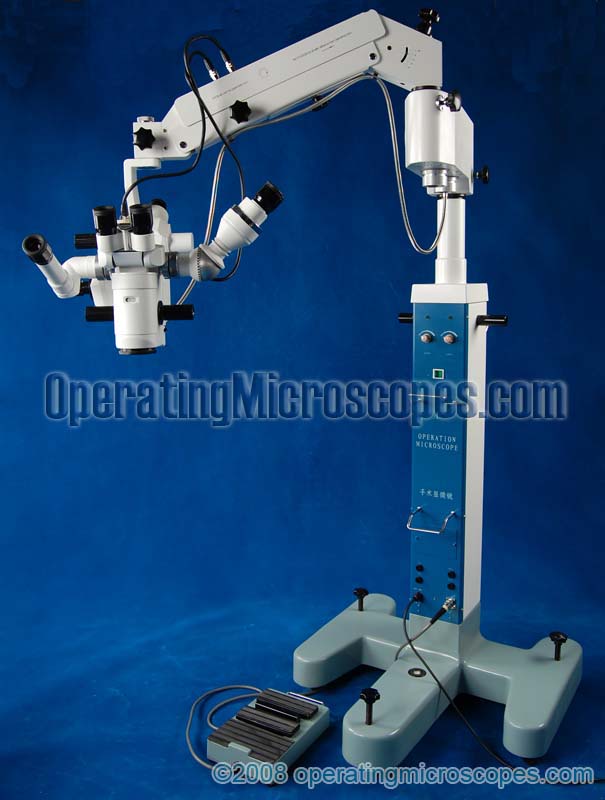 s/h:
Shipping cost to be determined based on destination and shipping method.
Non-FDA registered manufacturing facility. If you need FDA, we can provide other equipment that is FDA.
Specifications:
This model of operating microscope is used for a variety of microsurgical applications and is considered a multifunctional unit.

The main features of this surgical microscope are the full motorization of the focusing, the zoom magnification, and the movement of the microscope head on the arm. The controls are on the foot pad as well as mounted by the microscope head for easy utilization.

It features a single binocular master surgeon's head as well as a binocular head for an assistant surgeon. This allows for two surgeons to simultaneously view the operating procedure. In addition, a monocular teaching/assistant head is also included. All heads see the same optics and zoom magnification.

The main surgeon's head is tiltable, allowing the doctor to sit in a variety of comfortable positions and to have the best angle of observation. The binocular assistant's head can also rotate to any convenient angle. The monocular assistant's head is easy to move to most any position for ease of viewing.

The monocular teaching head can be removed and an optional c-mount can be installed for connection to a ccd camera. This allows video microscopy of the surgical procedure so all medical personnel in the room can observe. The c-mount, CCD camera, CCTV monitor, and video cable are all options, not included in the basic surgical operating microscope package.

The microscope has a feature allowing fast changeover to new bulb during surgery if the bulb blows. The illumination system consists of a cold light source with fiber optics and is coaxial to the optics. This surgical operating microscope is NOT made in a US FDA (Food and Drug Administration) registered manufacturing facility, but DOES have CE certification.
Buy Now!!!
Call toll-free:

or email