DENTAL – ENT
GENERAL MICROSURGERY
SURGICAL OPERATING MICROSCOPE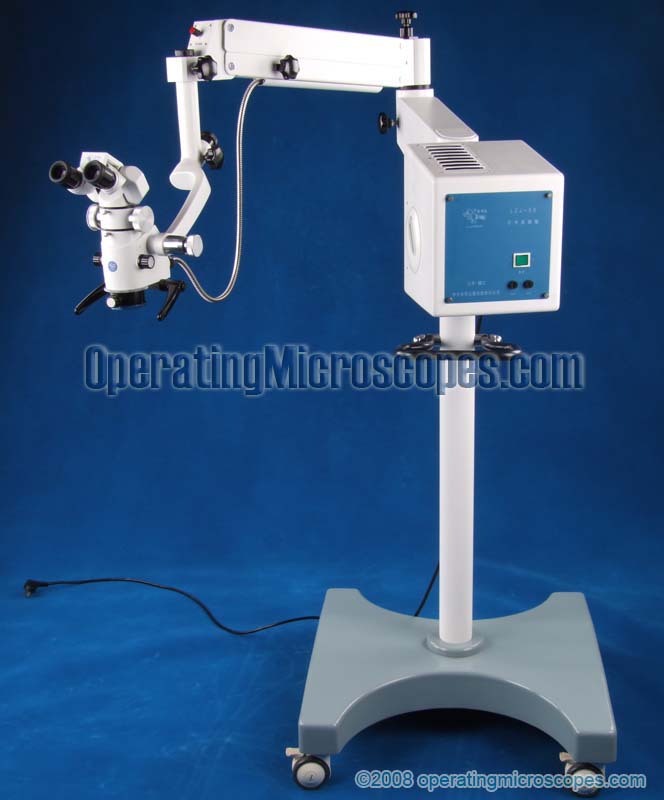 s/h:
Shipping cost to be determined based on destination and shipping method.
Non-FDA registered manufacturing facility. If you need FDA, we can provide other equipment that is FDA.
Specifications:
This model of surgical microscope has its main use in the fields of dentistry and ENT (ear, nose, throat medical practice) and other general microsurgical procedures in the medical field. One of the main features of this surgical microscope is the motorization of the focusing controls. The motors are controlled by the foot. It also features a tiltable main head that the surgeon can rotate to any convenient angle, up to a maximum of 180 degrees (straight head). The main head is binocular. The standard package includes only one binocular head, for the master surgeon. As an option, and for additional cost, the physician can choose to include a singular monocular ocular teaching tube or a double binocular head.

The optional monocular teaching tube allows a second surgeon/assistant to view the surgery simultaneously. Another option is a beam splitter, ccd camera adapter, and ccd camera for taking the video image to a cctv monitor for all in the room to see, or for the surgery to be videotaped.

The binocular head has a five step magnification of 3.4x, 5.1x, 8.3x, 13.5x, and 20.5x using the included f250mm focal length bottom objective lens. It does not have zoom optics. For various microsurgical operation applications, different bottom objective lens may be needed to provide varying working distances (they also alter magnifications). Optional objective lens include: f200mm, f300mm, f350mm, f400mm.

A fine micro-focusing adjustment hand knob is located on the front body of the microscope head and has a range of adjustment of up to 20mm. The microscope's arm is flexible and can easily be moved out of the working area. When it is moved and folded up (as would be when not in use), an internal switch disengages the electrical for the light. The microscope also comes with a built-in orange filter and green filter that can be selected by turning a knob. The optics are infinity corrected.

Depending on the selected magnification, the diameter of the field of view is between 10.4mm and 66mm. The microscope head has 12.5x/18mm high eye-point wide field eyepieces. The maximum extension of the arm is up to 1300mm. The up and down range of the stand is up to 500mm.

The microscope has a feature allowing fast changeover to new bulb (15V/150W halogen) during surgery if the bulb blows. The illumination system consists of a cold light source with fiber optics and is coaxial to the optics. It has a variable intensity control with maximum brightness greater than 5000Lx. This surgical operating microscope is NOT made in a US FDA (Food and Drug Administration) registered manufacturing facility, but DOES have CE certification.
Buy Now!!!
Call toll-free:

or email