OPHTHALMIC - OPHTHALMOLOGY
EYE SURGERY
SURGICAL OPERATING MICROSCOPE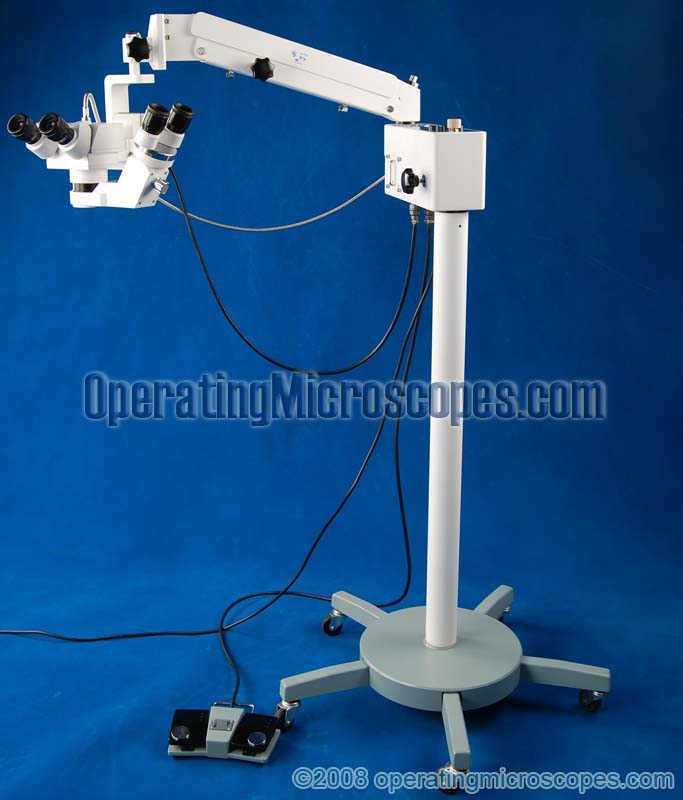 s/h:
Shipping cost to be determined based on destination and shipping method.
Non-FDA registered manufacturing facility. If you need FDA, we can provide other equipment that is FDA.
Specifications:
This model of operating microscope is mainly used for ophthalmic eye surgery.

This model is similar to model MS-135 but it has only one of the dual heads that the MS-135 has. It has a primary, master surgeon's binocular head plus has a binocular teaching head assembly. This allows a second observer/assistant to view the microsurgery simultaneously. This model does not have an option for a beam splitter, ccd camera adapter, and ccd camera.

The main feature of this surgical microscope is the motorization of the focusing. The controls are on the foot pad.

The main surgeon's binocular head has a single fixed magnification of 10x using the included f200mm focal length bottom objective lens. If an optional f250mm objective lens is used, the magnification is changed to a fixed 8x. It does not have selectable magnifications and does not have zoom optics. The single binocular assistant head has a fixed magnification of 4x. This magnification is not altered when the main surgeon's binocular head changes its objectives (options are f200mm and f250mm).

The microscope has a feature allowing fast changeover to new bulb during surgery if the bulb blows. The illumination system consists of a cold light source with fiber optics and is coaxial to the optics. This surgical operating microscope is NOT made in a US FDA (Food and Drug Administration) registered manufacturing facility, but DOES have CE certification.
Buy Now!!!
Call toll-free:

or email